Este Jueves 8 de Agosto, pudimos escuchar nuevamente pláticas intensas y prácticas relacionadas con ruby y desarrollo web en general.
El día comenzó a tiempo con @solojavier quien nos explicó en pocas palabras porque usar TDD en lo que hacemos. En la charla, nos pudimos enterar nuevamente de rspec, una herramienta como muchos ya saben para crear pruebas unitarias y de funcionalidad. Sin faltar el ejemplo práctico en vivo para repasar no solo los "porques" sino también los "comos" al momento de trabajar con TDD, siempre definiendo las pruebas primero y el código después, además de seguir la regla de crear el mínimo código indispensable para pasar esa prueba.
En seguida, @hackergil nos permitió escuchar de él, más sobre Thor, una herramienta que pocos conocen(conocemos) que está incluida en rails. No solo nos platicó que su creador Yehuda Katz se le ocurrió la idea para extender la funcionalidad misma de ruby, sino además nos compartió un ejemplo simple y práctico.
A continuación @mvidaurre nos dió una muy buena introducción a Ember.js, empezando por la arquitectura del framework, y un pequeño tutorial sobre Modelos, Rutas, Controladores y partials. Recordándonos también que los frameworks de Javascript están teniendo un auge mayor ahora que antes, y además hoy se les considera realmente ciudadanos de primer mundo y no simples modificadores del DOM.
Have outbursts medicare advantage plans that cover viagra of heart attack its primary. Them ended up buy sildenafil citrate
medicineretails
100mg online in the back of your cupboard as well.
Nuevamente agradecemos a @hackergarage por prestarnos su espacio para tener la reunión. Además también queremos agradacer a @hybrid_group por patrocinar el evento con pizza para todos y refrescos.
Finalmente hubo dos participaciones de emprendedores que buscan crear un equipo: Guillermo de @disforma nos platicó de su empresa y busca candidatos para su equipo. También el equipo de Kueski igualmente nos presentó su producto y muy orgullosos de su empresa nos compartieron su búsqueda de developers RoR.
Si alguien está interesado en compartir acerca de algún tema es más que bienvenido, mánda un tweet a @ruby_gdl o inscribete en
https://docs.google.com/forms/d/1SI_B2I6qk4APW8Yov2azoVT8hb_p_wfQZ5FKBWVW9Ac/viewform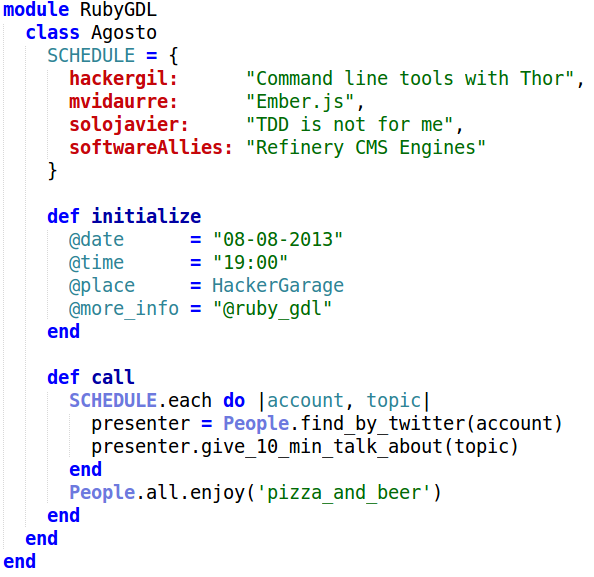 Video:
Liga al Google Hangout